Does insurance cover hail damage to your car in Ontario?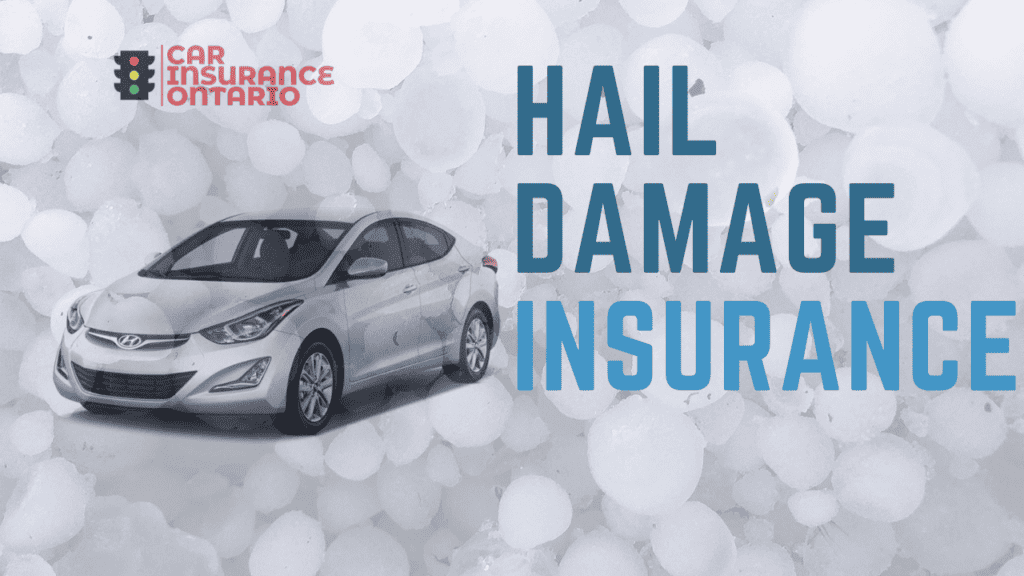 Insurance covers hail damage only if you've purchased All Perils, Specified Perils or Comprehensive coverage. Without any one of those coverages, hail damage to your car won't be covered. For example, if you only have liability coverage, hail damage is not covered.
Hail is a specified peril that occurs when rain droplets are carried upward into extremely cold areas of the atmosphere and freeze. These droplets turn into ice pellets, ranging in size from less than 5mm to over 15 centimetres. When they fall from the sky they cause catastrophic damages to anything below, including your vehicle.
Is there a deductible for hail damage on my vehicle in Ontario?
Yes, there is a deductible to pay for hail damage auto claims. The deductible amount is based on your All Perils, Comprehensive or Specified Perils coverage. For example, if you have All Perils coverage with a $500 deductible, you would be responsible for the first $500 towards the hail damage loss.
What happens if my vehicle is a write-off due to hail damage in Ontario?
If you've put in a claim for the hail damages on your vehicle, and your insurance adjuster deems the car a write-off, the claim will be treated like any other vehicle accident claim. The adjuster will offer to pay either the replacement cost or the Actual Cash Value of the vehicle, less the deductible(if applicable).
Vehicle Branding after Hail Damages in Ontario
Vehicle branding is a consumer protection measure administered through the Ministry of Transportation of Ontario. The program provides consumers with important information about a vehicle's past, including accident history, helping to keep unsafe vehicles off the road.
In Ontario, there are three types of brands: salvage, irreparable and no brand.
Irreparable: If your vehicle is branded "irreparable", this means your vehicle can never be repaired and placed back on the road. The vehicle would only be suitable for parts.
Salvage: If your vehicle is branded "salvage" that means you would need to have it repaired and recertified before it can be authorized to drive on the road again.
No Brand: This means that your vehicle continues to be suitable for road use and that repairs aren't necessary to continue to drive your vehicle.
Written Off/Total Loss Due to Hail Damage
When a vehicle is damaged by hail the extent of the damages is typically severe. Hail damages almost every part of the vehicle, making the potential repair a costly one. If the cost to repair the vehicle exceeds its value the car insurance company will typically, write off the vehicle.
The insurance company might allow you to keep the vehicle (salvage). If you choose to keep the vehicle there are typically no requirements to have the vehicle repaired or recertified with the Ministry of Transportation of Ontario. This is appealing to claimants who may not care that the damage is unrepaired, as long as the vehicle operates and drives normally. In this way, the claimant could keep the vehicle and get a cash settlement at the same time. However, going this route might render your vehicle ineligible for collision or other optional loss coverages in the future. Check with your insurance broker or agent before you make any decision.
Will claiming for Hail damage on my car raise my rates?
Hail damage auto claims do not generally increase your premium, however having too many hail claims might force your company to increase your hail coverage deductible, or even decide not to offer the coverage, completely. Every company is different regarding their rules, so ensure you know them to make an informed decision.
Is it worth claiming for hail damage to your vehicle?
It's definitely worth claiming the hail damage to your vehicle, as the alternative would be to take a financial loss if you didn't. If you pay for the coverage then why not take advantage of it?
Many people dismiss hail damage as minor, but in most cases, it is not. Hail damage causes extensive damage to the vehicle, typically rendering them total losses from an insurance perspective. If you decide not to claim for hail damages to your vehicle, you may be forfeiting your right to be compensated and ultimately, not receiving anything for the loss.
How to Save Your Car From Hail Damage
Preventing hail damage to your vehicle includes the following methods :
Garage Parking: If you have the option to store or park your vehicle in a garage, this will be the best option.
Car Cover: Specifically designed covers made to help protect your vehicle from hail damage, rain, dust, fallen leaves and UV protection. Vehicle covers range in price from $50 to $100.
Blankets or Comforters: If your vehicle requires immediate protection, you can always use old blankets or comforters to help minimize damages.
Weather App: Installing a weather app on your smartphone or device will help keep track of potential hail storms, so you can prepare accordingly. Get it here at the Google App Store