Ontario Accident Benefits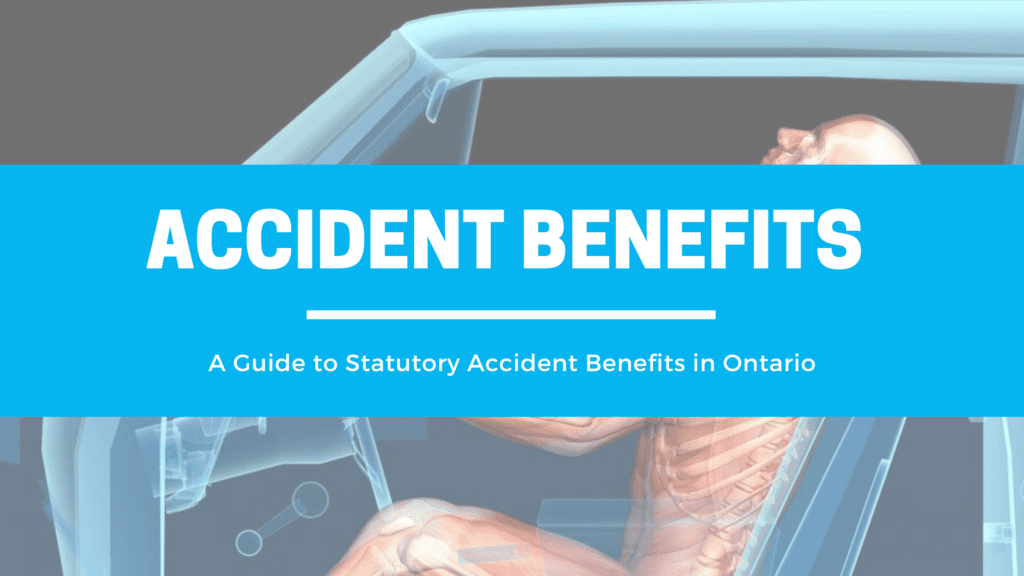 Ontario Accident benefits are mandatory auto insurance coverage under the OAP 1, or Ontario Automobile Policy. They cover injuries and death resulting from automobile accidents, regardless of fault.
What are Accident Benefits in Ontario?
The benefits under the Statutory Accident Benefits Schedule include the following:
Who is covered under Accident Benefits in Ontario?
Accident benefits in Ontario cover insured persons, as defined in the Statutory Accident Benefits Schedule. This also includes any insured who is killed or injured in a motor vehicle accident.
Insured persons also include anyone, not a named insured or the spouse or dependent of a named insured, under any other motor vehicle liability policy, and is not covered under the policy of an automobile in which they were an occupant or which struck them.
How to apply for Accident Benefits Coverage in Ontario?
Applying for Accident Benefits coverage in Ontario requires you to notify your insurer within seven days, or as soon as possible after that.
Once you notify your auto insurance company that you want to make a claim, they will send you an application form called the OCF 1 (Ontario Claims Form 1), form to be completed.
The OCF 1 form needs to be completed within 30 days of receiving it from your insurer. If you are late submitting the form within the deadline, you still can receive accident benefits but they would be delayed. It's important to notify your insurance company and complete the required form within the timeline in order to have your claim processed faster and without delay.
Once your claim has been accepted by your insurance company, your insurer may require you to go for an assessment to determine your needs. The assessment is typically performed by an independent company, so there is no conflict of interest.
Your insurance company may also require you or any additional insured to provide additional information, statutory declarations or proof of identity. They may also ask for you or other insured persons to attend an examination under oath. The application for Accident Benefits may be delayed or suspended if you or other insureds do not comply with your insurance company's requirements.
Who can apply for Accident Benefits in Ontario?
Anyone injured due to a motor vehicle accident can apply for Accident Benefits in Ontario. Typically, you would claim from your own car insurance company, regardless of who's at fault for the accident.
What are optional Accident Benefits in Ontario?
Optional accident benefits in Ontario are coverage add-ons which can increase your benefit entitlement or change eligibility requirements. You need to purchase optional accident benefits like other optional auto insurance coverage, such as all perils, collision, comprehensive, loss of use or any other non-mandatory coverage.
Each individual coverage can be increased by purchasing an insurance endorsement respective to the benefit you wish to increase.
Medical, Rehabilitation and Attendant Care
The Medical, Rehabilitation and Attendant Care benefit can be increased from $100,000 to $130,000 and also combines the Attendant care benefit for non-catastrophic injuries. For catastrophic injuries, coverage for Medical, Rehabilitation and Attendant Care can be purchased for $1,000,000 of coverage for catastrophic injuries only.
Income Replacement
The Income Replacement Benefit (IRB) can be increased from 70% of gross income up to $400 per week, to weekly limits of $600, $800 and $1,000.
Caregiver Benefit
Purchasing optional Caregiver benefits doesn't increase the amount of the benefit but changes the conditions so that the benefit is available for all injuries, not just catastrophic ones.
Housekeeping and Home Maintenance expenses
The Optional Housekeeping and Home Maintenance benefit are very similar to the optional Caregiver benefit, in that, the amount of the benefit doesn't change, only the condition in which it becomes available. If optional coverage is purchased the benefit is applicable to all injuries not just catastrophic ones.
Death and Funeral Benefit
The Death and Funeral benefit has three components:
The Optional Death and Funeral benefit increases the benefit amount to an eligible spouse from $25,000 to $50,000, $10, 000 to $20,000 for a lump sum to each dependent and an increased funeral expense benefit from $6,000 to $8,000.
Dependant Care
The Dependent Care Benefit is available only as an optional accident benefit add-on. This means there is no standard coverage for this benefit and must be purchased if needed. This benefit offers a dependent car expense of $75 a week for the first dependent, $25 a week for each additional dependent, to a maximum of $150 a week.
Indexation
The Indexation Accident Benefit is very similar to Dependent Care Accident Benefit, in that it does not come as standard, default coverage. It needs to be purchased in order to have it. The benefit allows for annual adjustments for inflation to your benefit payments.
Third-Party Liability
The Third-Party Liability Accident Benefit is really not a benefit but changes the conditions in which you can sue a negligent third party for your injuries in Ontario when in a motor vehicle accident. Ontario is governed by a "no-fault" insurance plan, which means we claim from our own insurance company for damages and injuries, without legal recourse to the negligent party. However, there are situations where you can sue a negligent third party, but only if you can prove that your injuries or damages sustained due to the accident exceed $200,000. The optional benefit allows you to increase the minimum threshold deductible. Different options for threshold deductible amounts are available.
Tort Deductible
The Tort Deductible Accident Benefit reduces your deductible of $36,905.40 for pain and suffering (general damages), by $10,000, regardless of adjustments for inflation.
Are Accident Benefits coverage mandatory in Ontario?
Yes, accident benefits coverage is mandatory auto insurance coverage in Ontario. Accident benefits coverage is outlined in section 4 of the Ontario Automobile Policy, (OAP 1). The policy defines who is covered, the type of benefits available, the application process, procedures and time deadlines, and limitations on coverage.
What is the statutory Accident Benefits schedule?
The statutory accident benefits schedule is a regulation under the Insurance Act of Ontario and the Ontario Automobile Policy, or OAP 1. The accident benefits schedule outlines the coverages available under the policy should you or any insured persons are injured or die due to a motor vehicle accident.
Are income replacement benefits taxable in Ontario?
No, income replacement benefits are not taxable in Ontario. This is an exclusion under the Canadian Income Tax Act.
How long does income replacement last in Ontario?
The Income replacement accident benefit lasts for 104 weeks.
What is an OCF 10?
The OCF 10 is an application for either Income Replacement, Non-earner or Caregiver benefits in Ontario. The completion of this form is the first step in the application process and must be completed within the allowable time frame.
What are the types of Accident Benefit settlements?
There are three types of accident benefit settlements in Ontario: