Auto Proof of Loss Form Ontario – How to Complete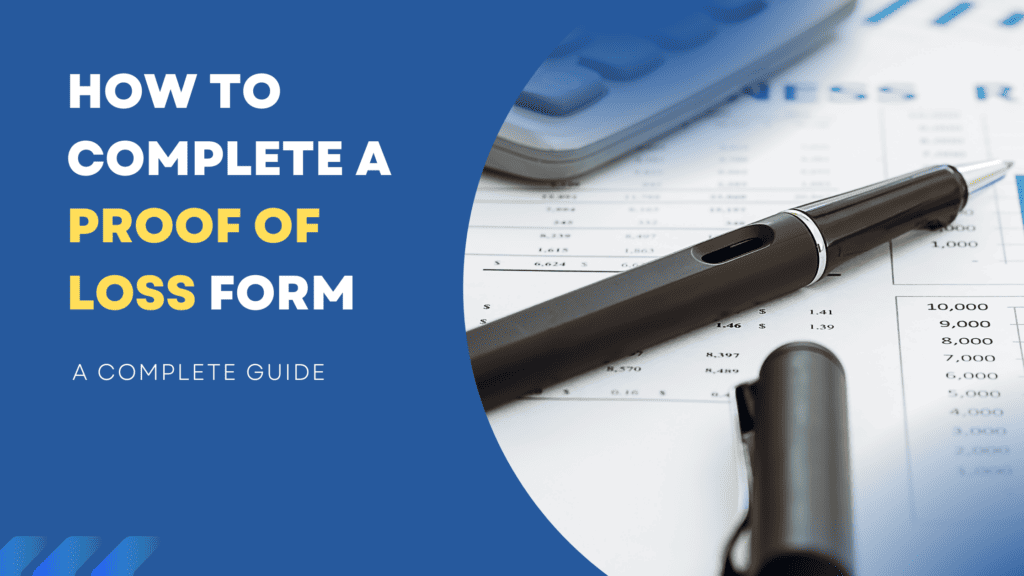 If you've ever had an auto insurance claim in Ontario, you may have received a proof of loss form to complete. This article will explain what a Proof of Loss form is and its purpose in the auto claims process.
What is a proof of loss form?
Insurance companies use a Proof of Loss form to obtain a formal declaration of the damages being claimed. Think of it as a type of affidavit, or sworn statement, wherein you declare to the insurance company the details surrounding the loss and how much you're claiming for. You would also need to have your signature legally, witnessed by a notary public or a Commissioner of Oaths if your insurance company requires it.
How to fill out a proof of loss form:
Add your claim number
Write down your insurance agent or broker (not to be confused with your insurance carrier)
Write down your insurance carrier
Write down your policy number
Put your name or company name here
Place your policy number here, again
The date when your policy expires
Year, make and model of vehicle
Vehicle VIN or serial number goes here
License plate and province
Date when you purchased the vehicle
Where you purchased the vehicle from
The amount you purchased your vehicle for
Day of the loss
Month of loss
Year of the loss
Time of the loss
Did the loss happen in the AM or PM
Where the loss happened. For example what street, city and province
What was the insured peril? i.e. theft, fire, collision
Name of a police agency
The day the police were notified
The month when police were notified
Year the police were notified
Here's where you put any lienholder, for example, the Bank of Nova Scotia
Indicate if you have a GST or HST-registered business. If no business then choose "no"
The business registration number goes here. This only applies to businesses and organizations
The ratio of the recoverable tax credit portion (typically applies to businesses and organizations) if you
don't have a business you would not fill this out.
The total amount of damages claimed, less tax
The total amount of tax claimed
The deductible amount
The total amount of damages claimed, including tax but less your deductible
Who the payment should be issued to? For example, it can be the policyholder or policyholder and a
lienholder
Print your name here
Location (township or County)where the document is being notarized or witnessed by the Commissioner of
Oaths
The date being signed or notarized (Day and Month)
Year Proof of Loss signed
Signature of the Policyholder
Signature of Notary or Commissioner of Oaths
Another section for additional insured to sign. For example, if two people were the policyholders, the section
Important things to know about a Proof of Loss Form
Most auto insurance companies in Ontario, fill out most of the Proof of Loss form for you. They will leave the bottom section blank for you to sign and witness if required. However, it's always a good idea to confirm everything for accuracy, before you sign or have it notarized.
There are also situations when your insurer will send you a blank proof of loss form.
This happens for a few reasons:
The insurance company is required by law to provide you with a proof of loss form and will send it out to you at the onset of a claim. Why? The insurer wants to avoid not sending it or sending it late, so they supply you with one at the beginning of the claim, whether it is needed or not. This confuses many people as they're uncertain what to do with the form when received. Most adjusters will advise their claimants that there's no requirement to complete the form and send it only for regulatory purposes.
Your insurance company may have been trying to reach you regarding a claim but was unsuccessful, so they mailed a "no contact" letter and a blank Proof of Loss. In this case, the insurance company wants to advise they tried to contact you and also remind you you have a certain timeframe in which to claim or respond to the claim.
If your insurer denies your claim, you will be presented with a blank Proof of Loss form.
You decide not to have the damages to your vehicle repaired caused by an accident. Sometimes people choose not to claim damages if the amount of damage is minimal or below their deductible. The insurer will send out a "not claiming" letter advising the policyholder of the timeframe in which to claim should they change their mind.
Insurance companies are required to provide a Poof of loss form within a set time frame
Insurance companies in Ontario are governed by the Insurance Act of Ontario, which specifically states that insurers are required to provide a Proof of Loss form to the policyholder within 60 days of receiving notice to claim. However, insurance companies try and send the form right away so they can satisfy regulatory compliance.
Furnishing the Proof of Loss form is not an Admission
Just because an insurance company supplies a Proof of Loss form does not mean that a valid policy is in place, or that coverage exists for a submitted claim. The insurer is required to provide a Proof of Loss form to any potential claimant or insured who notifies the Insurer regarding a loss. If there is no coverage, a letter would be sent to the claimant or policyholder after the Proof of Loss form is submitted, reviewed and subsequently, rejected.