Collision Coverage in Ontario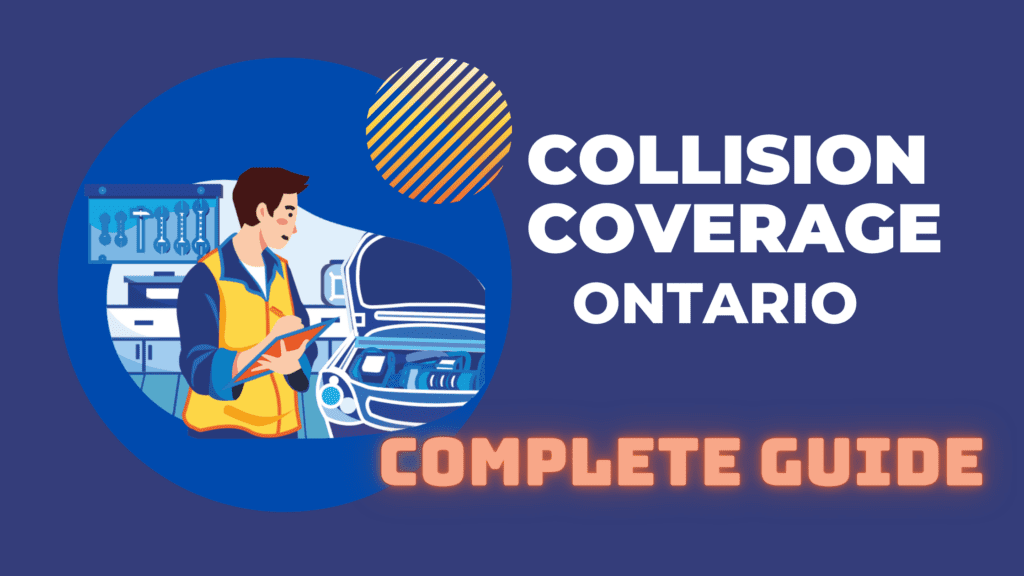 What does collision insurance cover in Ontario?
Collision insurance in Ontario, Canada, is optional auto insurance protection that covers damages or loss to your vehicle. The insurance company will pay when your vehicle collides with another object or tips over.
Object includes:
No collision coverage in Ontario and not at fault for the accident
Suppose you do not carry collision insurance coverage and get into a not-at-fault accident with another vehicle in the province of Ontario. In that case, it can create three potential outcomes regarding how the claim would be handled.
Keep in mind that if the accident happens outside of the province of Ontario the circumstances surrounding the accident and how collision coverage is applied change. The land in which the accident occurs (law of the land) is what governs the legislation and coverage applied to a claim.
No collision coverage in Ontario and at fault for the accident
In Ontario, if you're at fault for an accident and have no collision coverage, there would be no coverage for your own vehicle damages or anything related to the incident such as towing expenses, storage or impound fees. If you are in this situation you should mitigate your loss as quickly as possible and not assume your insurance company may help you pay any loss or expense. Since Ontario is a "no-fault" province you do not have to worry about the other driver's vehicle damages, as they would claim from their own insurer.
When to drop collision insurance coverage
There is no recommended time or reason to drop collision coverage from your auto policy. Sure, you can save a bit of money but not as much as you think and the potential consequences of not having collision coverage outweigh the cost savings. The cost of keeping collision coverage is always significantly lower compared to other mandatory auto coverages.
It's preferable to keep collision coverage on your vehicle for as long as you possibly can. This may protect you in situations such as being a hit-and-run victim, involved in a single-vehicle accident or getting into an accident with a vehicle from out of province or state. There is NEVER a point in time or purpose where collision insurance coverage is not worth it.
Is collision coverage in Ontario mandatory?
Collision insurance is not legally, mandatory in Ontario. Collision coverage is considered optional loss coverage which needs to be purchased separately from the default coverages in the Ontario Automobile Policy, or OAP1. However, it may be mandatory to have collision coverage through a contractual obligation with a lienholder if your vehicle is leased or financed.
Comprehensive vs collision coverage in Ontario
Comprehensive and collision insurance are different coverages, altogether. One thing that both coverages share is that they are both optional loss coverages, meaning you would need to purchase them in addition to the mandatory default coverages in the Ontario Automobile Policy or OAP 1.
Chart with differences
Do you need collision coverage in Ontario?
Although collision insurance is not required by law in Ontario, the need for it normally comes from a desire to protect your vehicle against loss or damage from the use and operation of your vehicle.
You need to ask yourself if you can take on the financial burden of paying for your own damages should you elect not to purchase collision insurance coverage.
Not many people can not afford to take on the responsibility of paying for their own damages because collision coverage wasn't purchased.
Some people have a misconception that collision coverage must be removed if the vehicle is older, but that's not good practice because the perils that collision protects you against have no bearing on the vehicle's age. Drivers who elect to remove collision coverage tend to do it with older vehicles, with the notion that it's no longer required. This couldn't be further from the truth. All vehicles, whether old or new, are subject to the same risks when on the road. Also, the cost of collision coverage tends to go down in cost as the vehicle ages, making it cheaper to add or maintain collision coverage. So why remove or not have it?
Is collision coverage in Ontario the same as full coverage?
No, collision insurance is not the same as full coverage in Ontario. Full coverage refers to all mandatory and optional coverages, including specific endorsements such as the OPCF 20 or OPCF 27. Collision insurance is one specific auto insurance coverage, therefore it cannot be considered "full coverage".
How does collision insurance work in Ontario?
Collision coverage pays for vehicle damages when the vehicle strikes another object or tips over. It is purchased as an add-on to your standard auto insurance policy and protects you should your vehicle collide with any object or tip over (upset).
Should you decide to put in a claim for your damages due to an accident, a claims adjuster will be assigned to your claim. They will review the details of the accident to confirm if collision coverage applies.
Typically, single-vehicle accidents hit and runs and at-fault accidents are covered under collision coverage, in the province of Ontario. If your accident falls under one of the above-mentioned situations your adjuster will cover the damages to your vehicle under your collision portion or your auto policy.
The adjuster will apply your collision deductible to the repair or replacement of your vehicle settlement. If repairable, you pay your collision deductible to the repair shop and if your vehicle is a write-off, the deductible comes off your settlement cheque.
What is a collision deductible?
A deductible on collision insurance is the self-insured portion of the loss or damage that you are assuming responsibility for. For example, if you have a $1,000 deductible on the collision portion of your auto insurance coverage this means that you pay for the first $1,000 on the loss, and the insurance company pays the remainder.
Should I add collision to my auto insurance?
If you can afford to add collision insurance to your auto insurance then there should be no questioning whether to add it. The advantages of having collision coverage outweigh the small cost savings of not having it. Most lienholders, or any lending institution, will require you to add and maintain collision coverage so that their financial interests are protected.
What happens if you have no collision coverage insurance?
If you have no collision insurance coverage in Ontario, the following could happen:
Someone could hit your car in a parking lot and take off (hit and run) – there would be no coverage for this without collision or all perils coverage in Ontario.
You could get into a not-at-fault accident with a driver and vehicle from out of province or state, who do not subscribe to the DCPD Undertaking (no-fault rules). This means your insurer cannot cover the claim and you'd be responsible for recouping the cost of your damages directly with the at-fault insurer.
You could get into a 100% at-fault accident. This means your insurance company would not respond to the loss or damage and you would be responsible for your own damages, including any tow, impound or storage fees. You would also be responsible for scraping the vehicle if it's beyond repair, should you decide not to keep it.
Do I need collision insurance on an old car?
The age of your car has no bearing on whether you should carry collision coverage or not. Just because your vehicle is older doesn't mean there's less likelihood of an incident occurring requiring collision insurance coverage. Single-vehicle accidents, hit-and-run accidents, and at-fault accidents all require collision coverage.
What is not covered by collision insurance?
Collision insurance does not cover the following:
At what point is collision insurance not worth it?
There is never a time when not having collision insurance is worth it. It is always worth having collision insurance as it provides a layer of protection that other coverages cannot provide. Also, collision insurance costs drop as the vehicle ages, where the risks stay the same.
How is the cost of collision coverage calculated?
The cost of collision coverage is determined mainly by the cost of parts and labour to repair your vehicle. The newer the vehicle the higher the cost of collision coverage. As the vehicle ages, the cost decreases, taking into consideration depreciation and the wider availability of parts. The cost of collision coverage can be anywhere from 5% to 20% extra on top of your standard coverages.