What is Automobile Liability Insurance Coverage in Ontario?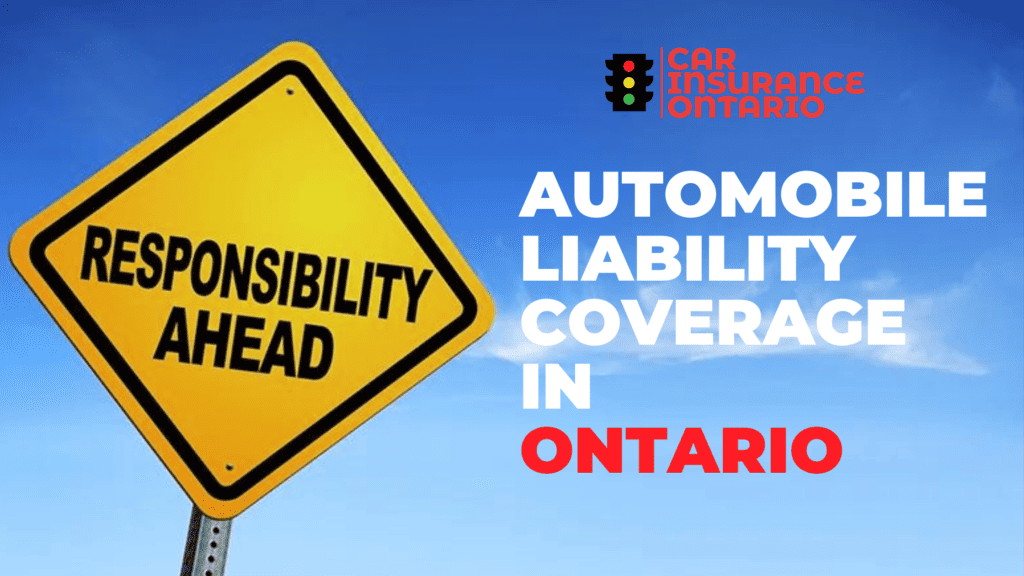 In Ontario, Canada, liability auto insurance coverage is mandated by law. You must have liability car insurance when operating any vehicle on the road, as the Compulsory Insurance Act of Ontario stipulates.
Why do we need liability auto insurance?
Auto liability insurance is a legal requirement meant to force the consumer to prove financial responsibility for third-party bodily injury or property damage stemming from the ownership and/or operation of a motor vehicle.
The government has legislated the requirement to have third-party auto liability coverage, as a way to protect people and families from not being able to recover from responsible drivers or individuals. If someone suffers injuries or damage to their property, resulting from the ownership or use and operation of a vehicle, liability auto insurance will help restore them to their pre-loss condition.
Despite being a mandatory auto insurance coverage in Ontario, there's a practical need for third-party liability coverage: to protect you from financial harm. Liability coverage is mandated through legislation to protect innocent third parties and also to protect you from the financial responsibility of indemnifying who you wronged.
Liability auto insurance is mandatory coverage, just like Accident Benefits, DCPD (Direct Compensation Property Damage) and Uninsured Motorist coverage. There is no way to opt out of liability protection. You can elect to lower your liability limit of insurance to the minimum provincial level, but even so, it's not a good idea, as lawsuits in these current times can easily exhaust your policy limits. Even if you want to reduce your liability to the Ontario minimum level of $200,000, you'll have a hard time finding a broker or company that will sign off on it.
People who are seeking the cheapest auto insurance might choose to remove optional loss coverage such as Collision, Comprehensive, All Perils, or Specified Perils, in favour of having liability only.
What is the minimum liability insurance limit for vehicles in Ontario?
Every province in Canada has a mandatory liability insurance requirement. However, not all Provinces are the same regarding how much liability auto insurance is required.
In Ontario, the minimum third-party liability required amount is $200,000.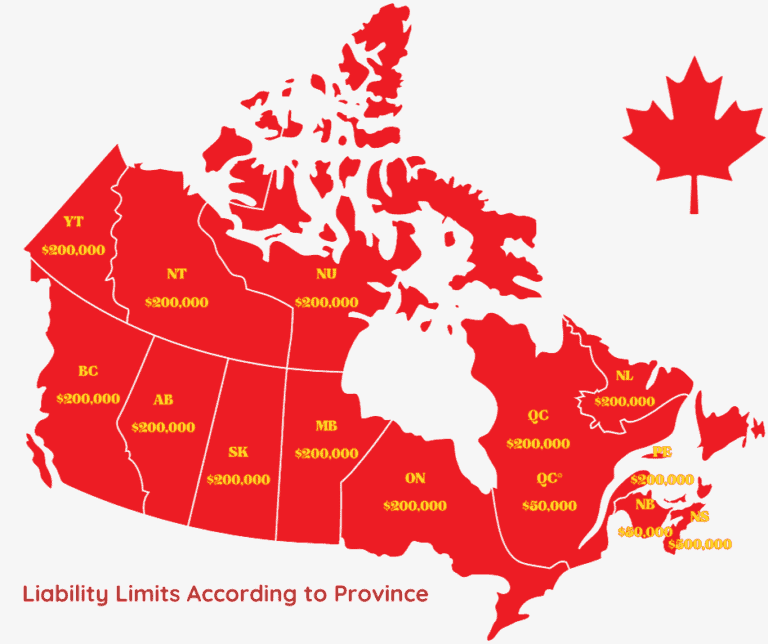 | Province | Bodily Injury | Property Damage | Minimum Limit |
| --- | --- | --- | --- |
| Alberta | $190,000 | $10,000 | $200,000 |
| British Columbia | $180,000 | $20,000 | $200,000 |
| Manitoba | $180,000 | $20,000 | $200,000 |
| New Brunswick | $180,000 | $20,000 | $200,000 |
| Newfoundland and Labrador | $180,000 | $20,000 | $200,000 |
| Northwest Territories and Nunavut | $190,000 | $10,000 | $200,000 |
| Nova Scotia | (inclusive limit) | (inclusive limit) | $500,000 |
| Ontario | $190,000 | $10,000 | $200,000 |
| Prince Edward Island | $190,000 | $10,000 | $200,000 |
| Quebec* | N/A | $50,000 | $50,000 |
| Quebec | $450,000 | $50,000 | $500,000 |
| Saskatchewan | $190,000 | $10,000 | $200,000 |
| Yukon | $190,000 | $10,000 | $200,000 |
* Applies to automobile accidents that happen in Quebec.
What does third-party liability auto insurance cover in Ontario?
Third-party liability insurance provides protection for the liability imposed by law for bodily injury and/or property damage arising out of the ownership, use, or operation of an automobile.
Who is covered under an auto liability policy in Ontario?
Third-party liability coverage through the Ontario Automobile Policy covers the negligence occurring from the following people:
Third-Party Auto Liability Exclusions
Some liability exposures are not covered under the Ontario Automobile Policy, OAP (1).
The following exposures are not covered:
Damage to property carried in or upon the automobile; or damage to other property owned or rented by, or in the care custody and control of the named insured or other insured persons
Contamination of property being carried
Nuclear hazards – exemptions apply
Amounts over the policy limit
Damage or loss of use to your own vehicle
Additional Agreements Under Third-party Auto Liability Coverage
The Ontario Automobile Policy, OAP 1, offers the insured an extra layer of protection as it relates to third-party liability exposures or risks.
The coverage is automatic and offers certain benefits in addition to legal liability coverage, over and above the purchased limit of liability.
The benefits include:
Legal defence costs
Post-judgement interest
Investigation, negotiation and settlement
Provincial Minimum Limits where the accident occurred
Reimbursement of out-of-pocket, necessary, medical aid to a third party
Taxes imposed on the insured when being sued
Liability for Rented or Leased Automobiles
Situations arise when a liability expose is created during the use or operation of a rented or leased vehicle. This implicates the owner's insurance policy, along with the driver's, as both policies may respond to the liability exposure.
In Ontario, this type of liability exposure is addressed according to a legislated, priority of payment rule. Proceeds of liability insurance payments are issued in the following order:
The person who rented the automobile
The driver of the automobile
The owner of the automobile
Property Damage Liability to Rented or Leased Vehicles
If you rent or lease a vehicle and are deemed responsible for its loss or damage, your auto policy might respond to the damages. This depends on various factors such as the reason behind using a rental or leased vehicle, insurance coverage that you've purchased or the order of priority of liability insurance payments. For example, you may have purchased the OPCF27 -legal liability for non-owned damages endorsement which covers you for damages you might cause to a non-owned vehicle for which you are responsible.
Liability vs. Full Coverage
Liability differs from optional loss coverages because it's meant to cover other people's losses, not yours. Optional loss coverages such as Collison, All Perils, Comprehensive and Specified Perils coverage are designed to provide coverage for property damage to vehicles you own.
For example, if you accidentally drove your vehicle into a light pole your auto policy would pay the owner of the light pole (Hydro Company) for the damages, while your optional loss coverage (Collision, All Perils) would pay for the claimed damages to your vehicle.